Obstacle Park
Adevnture park "Tērvetes Tarzāns" is the newest member of the "Tarzans" family – and is open since May, 2020. Thanks to the customer feedback and years of experience, we decided to create this park. "Tērvetes Tarzāns" has 9 tracks of different difficulty levels and more than 100 obstacles. Our customers have access to 2 green tracks, 2 blue tracks as well as one red and one black track. Both of the advanced tracks will challenge your courage and skilfulness as the obstacles are 7-10 m high above the ground - you have to ride a bike and do the "Tarzans" jump into a net and use your arm strength while doing it. At the end of the black track you will be provided with a definite rush of adrenaline as you will have to jump from 10 m height with a special evacuation equipment. Safety in our park is provided by the most innovative Swiss equipment "Kanopeo" – fixed straps system.
The kids park for the 3-6 years old visitors consists of 3 tracks that are 1 to 2 metres above the ground. The difficulty levels differentiate having more advanced obstacles and games as you continue along. To award the kids at the end, they get to do the zip line that we know they are big fans of.
Together "Tērvetes Tarzans" has 7 zip lines, the longest being 60 metres. Adventures and activities outdoors – for your happiness and wellbeing!
Most trustful safety system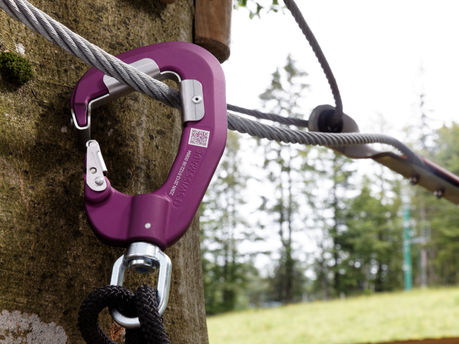 Obstacle park is equipped with a new generation safety system of Swiss company Kanopeo providing that each visitor of the park is continuously attached to a safety rope during the whole course thereby your adventure will be safe.
Obstacle park
Children (3-7 years old) / Obstacle Park

Children (7-10 years old) / Obstacle Park

Teenagers (10-17 years old) / Obstacle Park

Adults 18+ years / Obstacle Park
Gift cards
Gift card

10€

Info about giftcard

You can use gift cards against any attraction or package ticket purchase

Gift card

20€

Info about giftcard

You can use gift cards against any attraction or package ticket purchase

Gift card

30€

Info about giftcard

You can use gift cards against any attraction or package ticket purchase